THE PRIORY CHURCH OF SAINT MARY & SAINT MICHAEL, CARTMEL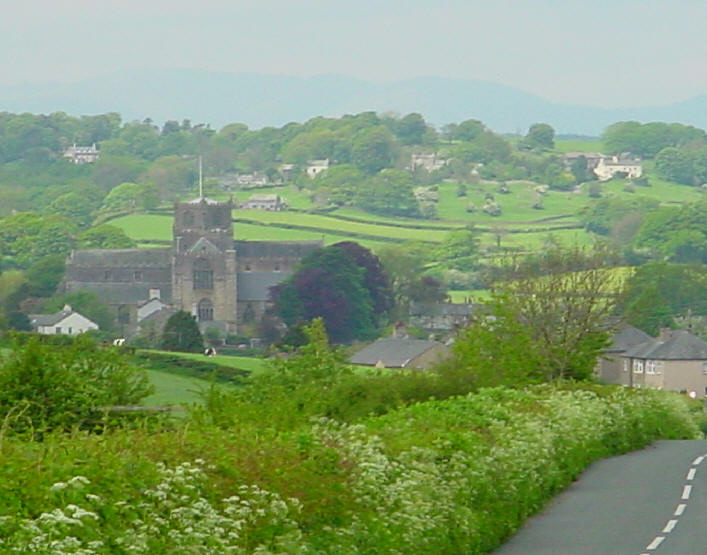 Photo by W Bernard Bland
The Priory is one of the three great monastic churches of the Augustine Order in Cumbria. With Carlisle Cathedral and Lanercost Priory. Cartmel Priory was founded in 1190 by William Marshal, Baron of Cartmel (afterwards second Earl of Pembroke) it was endowed with the manor of Cartmel and all lands in the district called Cartmel, and also certain lands in Ireland. He ordained that it should be free from all subjection to any other house and also that an alter should be provided, with a priest, for the people. The last point is of great importance because it meant that the people should always have a right to worship in part of the Priory Church. Little did the founder think that this apparently minor condition was to be the means of preserving the church itself from destruction some 350 years later.

The Priory has many treasures; fragments of manuscripts, a two-hundred year old umbrella, a Vinegar Bible (1716) and part of the first edition of Spencer's Faerie Queen (1596) This volume, stolen in 1929, was taken to New York, where it proved un-saleable and was returned to the church in 1931 by the Suffolk police. It is now in the library of Lancaster University, together with Thomas Preston's library of some three hundred mainly theological works of the sixteenth and seventeenth centuries. The Churchwardens' accounts of 1595, and among other documents, the Parish Registers from 1559 to present times are lodged for safe keeping in the County Records Office at Kendal.

Information taken from the Cartmel Priory booklet by the Rev. L.G. F. Dykes and T. Hardwick.

In the burial records for the priory there are many records of people who drowned some are named many are unknown, these records have been transcribed from 1837 to 2000 and are for sale on michro fiche from the society book sales.



RETURN TO CONTENT / INTRODUCTION PAGE
POWERED BY BRAVENET.COM
------------------------------------------------------------ooOoo------------------------------------------------------------


Please take the time to view / sign our guestbook
© Furness Family History Society. Established 1993. Affiliated to the FEDERATION OF FAMILY HISTORY SOCIETIES.