THE PARISH CHURCH OF SAINT ANDREW, CONISTON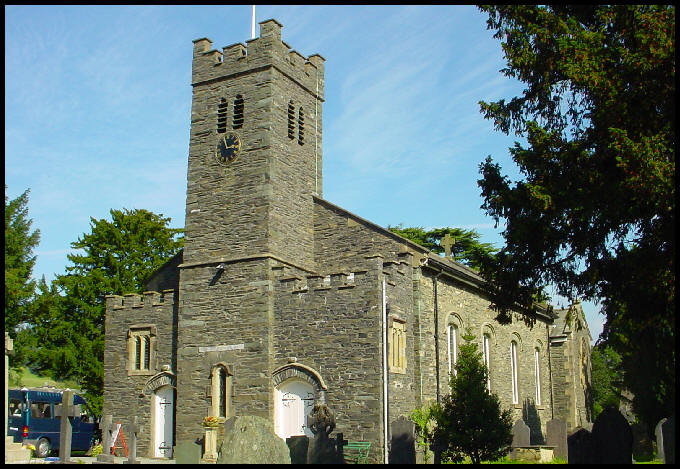 The Parish Church of St Andrew was originally a Chapel built in 1586. Matson replaced the present church in 1819 and the chancel in 1891 (Mike Salter's The Old Parish Churches of Cumbria). The yews and cedars were refashioned at the beginning of the 19th century.

John Ruskin lies here, peacefully, among the yews & cedars in the place he loved so much. Brantwood, the house he lived in for so many years, stands overlooking the lake and is now a museum dedicated to him. Over his grave is a cross designed by his friend Professor Collingwood, and made beautiful by men he knew from the hard green stone that lies everywhere about. The stone is carved on four sides. On the east side, facing the grave, is a musician playing a lyre, an artist sketching against a background of pines, the rising sun, the winged lion of St Mark and the seven-branched candlestick. On the west, looking to the mountains, are scenes of the parable of the workmen receiving a penny each, the angel of fate holding a club, key, and nail, a crown of wild olive, sesame and Lilies, and St George and the dragon. On the south are wild roses, with a squirrel, a robin, and a kingfisher, and on the north is a globe of the world and a revolving cross as the emblem of eternal life.

Taken from Arthur Mee's Lancashire.
RETURN TO CONTENT / INTRODUCTION PAGE
POWERED BY BRAVENET.COM
------------------------------------------------------------ooOoo------------------------------------------------------------


Please take the time to view / sign our guestbook
© Furness Family History Society. Established 1993. Affiliated to the FEDERATION OF FAMILY HISTORY SOCIETIES.