THE PARISH CHURCH OF SAINT PETER, FINSTHWAITE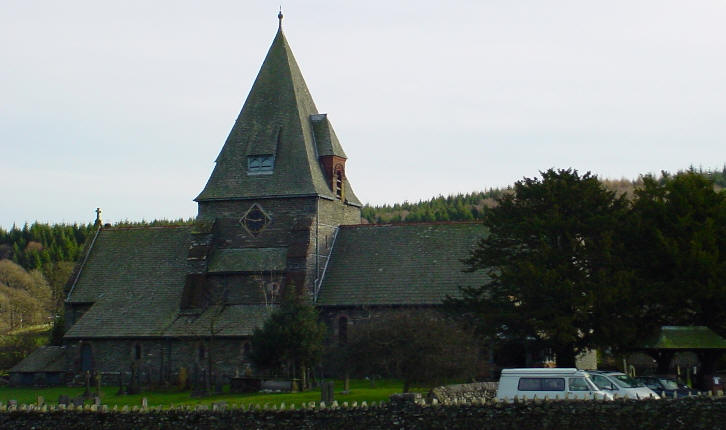 The church lies in a wooded valley between Windermere & Coniston. The church you see today was built in 1873-4 by Paley & Austin and replaced the previous church built in 1724, the old yews shading the lynch gate have stood there for many years. Some of the treasures include a case of sacred relics from a bitter British fight for liberty. They are three vessels and a wooden cross, fashioned in the mobile workshops on the Italian battlefields by some soldiers who wished their padre to give them Communion on the Christmas Day after the Armistice. Later he became the vicar of St Peters, and gave these things to this church to keep among its honoured possessions. The graceful cup was fashioned from the cap of an 18 pound shell, and the two patents were also made from the shells. The cross was fashioned from a plank in the pontoon bridge, built to carry troops across the River Piave for the final attack which helped to end the war.

Taken from Arthur Mee's Lancashire

In the graveyard you will find among the other graves one to the Finsthwaite Princess her head stone reads

In Memoriam,
Clementina Johannes Sobiesky Douglas,
of Waterside,
Buried 16th. Day of May 1771.
"Behold The King Cometh".

It is widely believed she was the daughter of Prince Charles Edward, the Young Pretender.


RETURN TO CONTENT / INTRODUCTION PAGE
POWERED BY BRAVENET.COM
------------------------------------------------------------ooOoo------------------------------------------------------------


Please take the time to view / sign our guestbook
© Furness Family History Society. Established 1993. Affiliated to the FEDERATION OF FAMILY HISTORY SOCIETIES.