THE PARISH CHURCH OF SAINT MARY THE VIRGIN, PENNY BRIDGE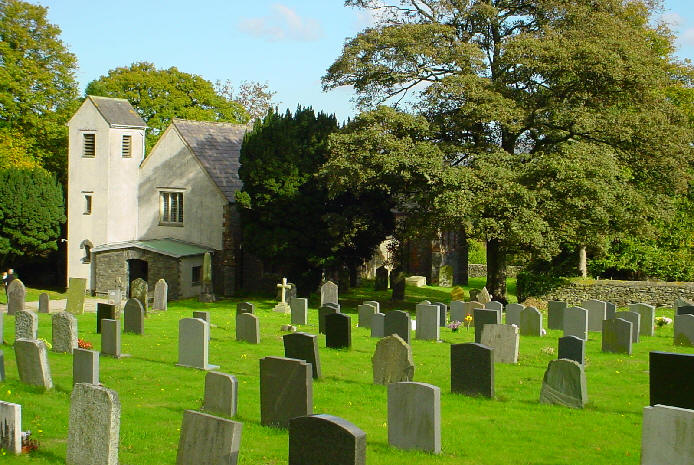 Photo by W. Bernard Bland.
The church is on a hill overlooking the villages of Greenodd and Penny Bridge. The site was chosen by William Penny of Penny Bridge Hall, Lord of the Manor of Dunnerdale and Seathwaite. The original chapel was built of stone and roughcast. It was a long low building with a massive tower at the west end. At this time it was a Chapel of Ease attached to Ulverston Parish Church. William Penny died before the Chapel was completed but was finished by his son-in-law John Machell, he became one of the first Chapel Wardens. A new church was built in 1831 when it was enlarged and extra pews added to create 223 extra seats.

The present Chancel was added to the East End of the building in 1855 as a memorial to James Penny Machell by Rev. James North. The whole of the Nave was rebuilt in 1864 by another member of the Machell family, Countess Blucher von Wahlstadt. The massive rebuild was started in May 1864 and completed by February 1865. Architect , E. G. Paley, created the Gothic structure.

The Church was opened for Divine Service on the Feast of St. Matthias on February 24th. 1865, the incumbent, the Rev. Gilbert Proctor, was assisted by the Venerable Archdeacon Cooper in the service of Holy Communion. The organ still used today was installed at the end of 1866, but was rebuilt in 1989. The Lych-gate use today was dedicated to those who gave their lives during the First World War.

Information taken from the Church Leaflet by J. R. Hockenhull.

RETURN TO CONTENT / INTRODUCTION PAGE
POWERED BY BRAVENET.COM
------------------------------------------------------------ooOoo------------------------------------------------------------


Please take the time to view / sign our guestbook
© Furness Family History Society. Established 1993. Affiliated to the FEDERATION OF FAMILY HISTORY SOCIETIES.