ALL SAINTS CHURCH, SATTERTHWAITE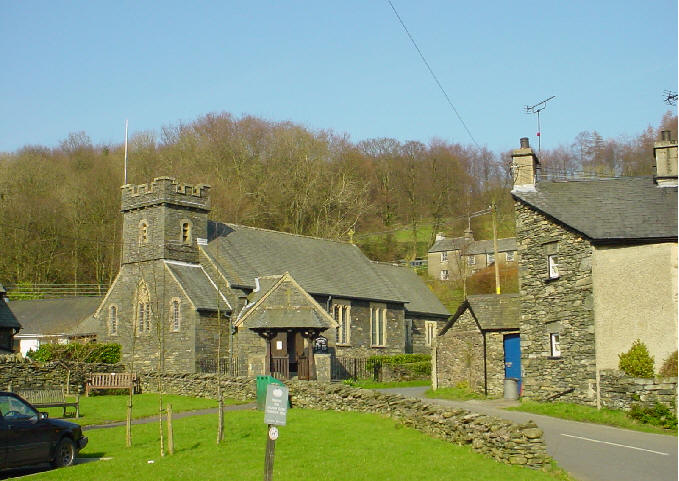 This parish church originally part of the large Parish of Dalton-in-Furness it was then attached to Hawkshead when in the 12th Century the church of St Michael was established to serve High Furness. By the 16th Century and maybe even before the dissolution of Furness Abbey Satterthwaite had its own Chapel of Ease and remained so until 1881 when it became independent. It had kept its own register of baptisms from 1766 and of burials from 1867 when the burial ground above the church to the north-east was opened.

An ancient chest, kept in the church porch, is a relic from the original chapel. This was rebuilt or restored about 1675, with help from Daniel Rawlinson, a London vintner whose family lived at Low Graythwaite. Other benefactors of the church were Thomas Sandys of Kendal, who was born at Satterthwaite had prospered and become an alderman at Kendal. He founded the Sandys almshouses in 1659. In his will in 1681 he left Lawson Park to support a preaching minister there, with timber trees to repair the chapel and 'a little house near the same'
possibly for the ministers use. The yearly rent of £4 from the park trebled the stipend of £2 raised by the inhabitants. The congregation had the right to appoint their own incumbent, but they lost it to an intrusive vicar of Hawkshead in 1816.

Information taken from the brief history of the church by Janet & Geoffrey Martin 1996.
click here to check out the Satterthwaite Community Web Site: The site has a wealth of information about the parish - but something that may be of particular interest to visitors is a full transcription of the baptism (1841-1940), marriage (1867-1940) and burial (1867-1940) registers of All Saints' Church (above), and a complete list of monumental inscriptions in its burial ground - all free to view. The owners are also hoping to add more records in the future - including a complete scan of the Satterthwaite and Rusland School admittance register.
RETURN TO CONTENT / INTRODUCTION PAGE
POWERED BY BRAVENET.COM
------------------------------------------------------------ooOoo------------------------------------------------------------


Please take the time to view / sign our guestbook
© Furness Family History Society. Established 1993. Affiliated to the FEDERATION OF FAMILY HISTORY SOCIETIES.